Every sport has its own type of fans, and they are typically broken into two categories: fair-weather fans and all-weather fans. The fair-weather fans are what one might call "those" fans, the ones who buy a last-minute ticket for the biggest game of the season and lose interest halfway through the postgame highlights. These fans might have surface level interest on the outside, but in reality, they are neutral about the team's performance or outcome of the game.
All-weather fans are loyalists. They are season ticket holders, buy every t-shirt, travel great distances, and spend excess dollars on hotels, rarely missing a game. They are also often the ones who stay until the final buzzer, inning or lap is complete.
However, there is a third category of fandom that stands in a league of its own: NASCAR fans. These are all-weather fans to the highest degree. Those who follow the sport do it with a dedication and devotion that simply cannot be matched, with passion going beyond driver and team support. Independent research conducted by MarketCast (formerly Turnkey Intelligence) shows that NASCAR ranks #1 in fan loyalty to sponsors, beating out the NHL, NBA, MLB, and NFL. So, what does NASCAR fan loyalty mean for the sport? First and foremost, it means sponsors are in the driver's seat. According to MarketCast Sports Poll, NASCAR ranks #1 among sports industry executives when it comes to doing the best job of developing opportunities for brand engagement of sponsors. As demonstrated by the infographic below, this translates to 35 percent of executives who say NASCAR is leading the pack in sponsor opportunities, outpacing all other major sports.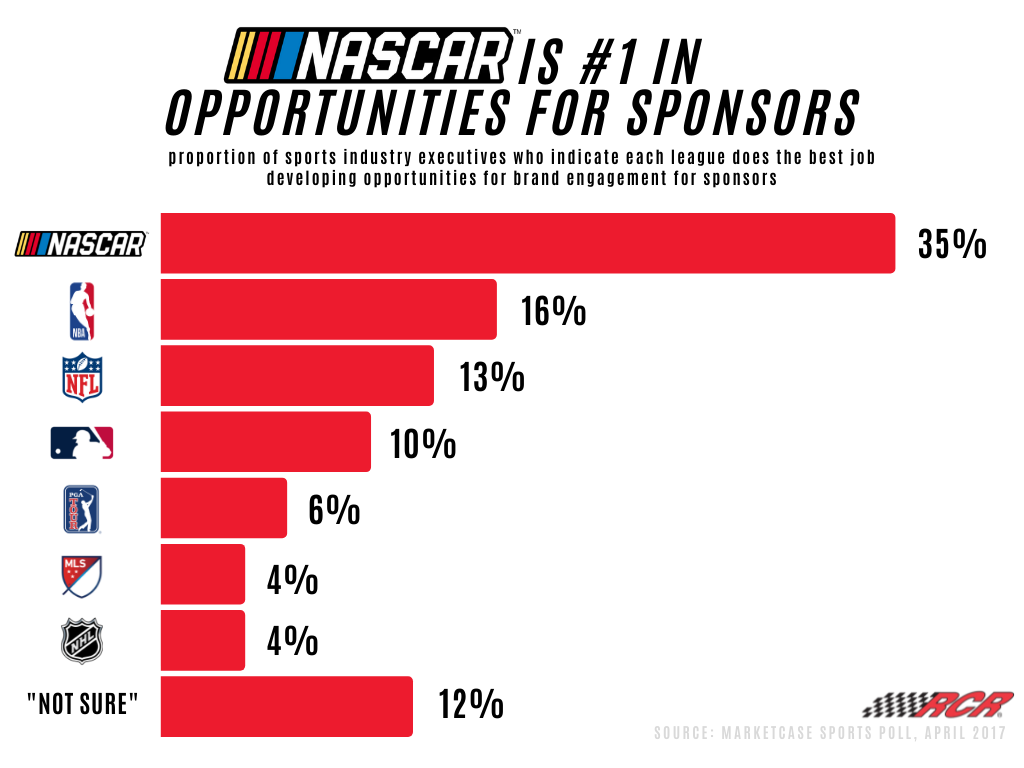 NASCAR has an opportunity unmatched by other leagues, with 38 weekends a year for sponsors to market their goods and services on a national platform. A great example of a company using NASCAR to leverage their brand is Coca-Cola. Coke is a sponsor of Richard Childress Racing and Austin Dillon's No. 3 Chevrolet Camaro. In addition to partnering with RCR, Coke is a Premier Partner of NASCAR. The brand has endorsement deals with several NASCAR drivers, is the title sponsor for multiple race events annually and also invests heavily with media buys during race broadcasts. Coca-Cola essentially has a year-round marketing initiative in the sport and thus a great platform to gain brand exposure and loyalty from NASCAR fans.
More opportunities for fans to engage leads to the second piece of NASCAR fan loyalty: According to Nielsen SponsorLink, NASCAR fans are more responsive to sponsors than the general population. As illustrated in the infographic below, NASCAR fan loyalty goes deeper than simply supporting the driver behind the wheel. While drivers play an important role, it is the sponsorship that has an impact on the dollar's fans are spending and the products they are consuming.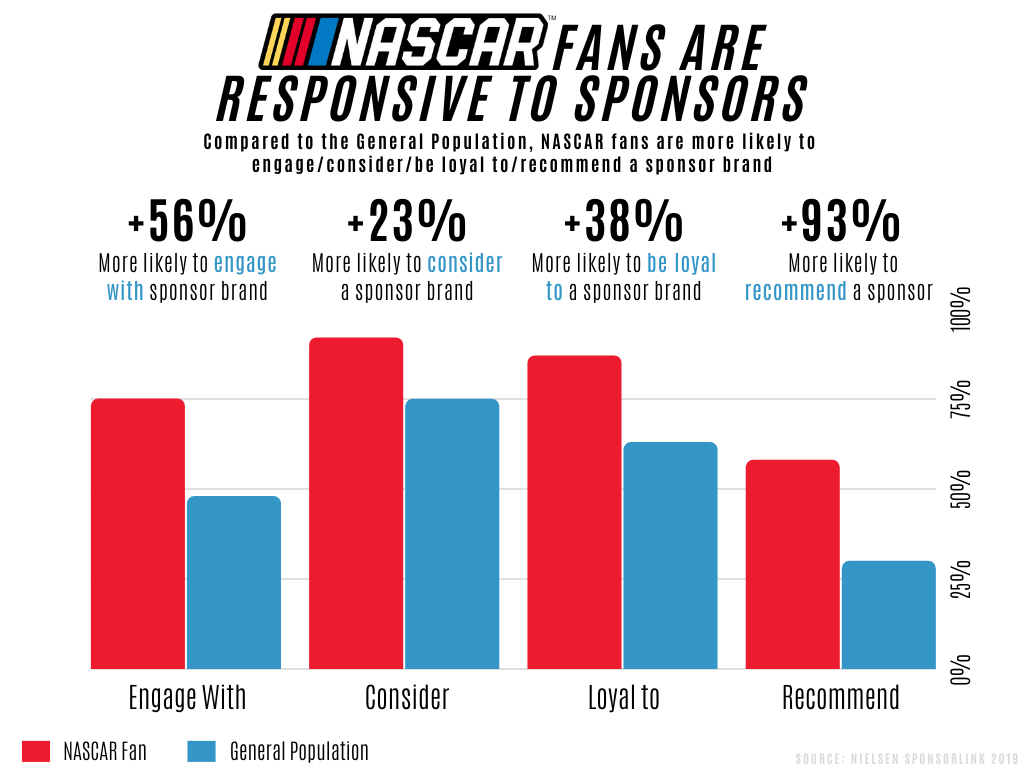 Finally, NASCAR fan loyalty means that the sport not only has lifelong fans, but lifelong supporters of the sponsors that we have come to know and love. A great example of this is RCR's partnership with Bass Pro Shops. According to Simmons National Consumer Survey, 42 percent of NASCAR fans enjoy outdoor activities, meaning that they are 14 percent more likely to enjoy outdoor activities than non-fans. It is not unusual for these fans to spend great deals of time (and money) investing in fishing, camping, target shooting, backpacking, hiking and other outdoor recreational activities. NASCAR fans are more likely to shop at Bass Pro Shops than other competitors because they know the importance of Bass Pro Shops to the sport—without Bass Pro Shops, their favorite team and driver wouldn't be able to compete. By spending their hard-earned dollars at Bass Pro Shops and being loyal to the brand, NASCAR fans are also supporting RCR and NASCAR.
A team partnership with RCR provides sponsors with unparalleled opportunity when it comes to connecting with fans and developing long-standing loyalty. Through brand exposure on the racecar and on television, or through the many race-day activation experiences, an RCR team partnership gives sponsors direct access to the most loyal fanbase in the world of sports.