In light of the COVID-19 pandemic, it seems that mostly everything has gone virtual these days, with sports being no exception. Since NASCAR's return to live racing on May 17th at Darlington Raceway, the team at Richard Childress Racing has been working diligently to establish creative solutions and workarounds to what is considered an essential part of our partner relationship: connection. While the opportunity to provide our partners with interactive, one-of-a-kind VIP experiences at the track is on hold, that does not mean that meaningful conversations and connections are not happening. Thanks to the help of video conferencing platforms like Zoom, RCR drivers Austin Dillon and Tyler Reddick have been able to participate in virtual appearances with fans, RCR partner employees and customers, and members of the media over the last couple of months.
Austin Dillon, driver of the No. 3 Chevrolet Camaro ZL1, had a full plate of virtual events leading up to the 61st running of the Coca-Cola 600 on Memorial Day Weekend. For years, Coca-Cola has used its family of drivers for Mission 600—an event held at military bases to honor active-duty service members. Due to the world health crisis this year's event was not able to happen in person, however Dillon and other drivers from the Coca-Cola Racing Family were still able to connect with service members via Zoom. Dillon spoke with Special Operations Command Marines from Camp Lejeune.

Also before the Charlotte race, Tyler Reddick, driver of the No. 8 Chevrolet Camaro ZL1, met with a group of 10-12 customers and dealers from Caterpillar South Africa via Zoom. These customers were originally scheduled to attend the spring Atlanta race as VIP guests of Caterpillar. In lieu of an in-person experience, Caterpillar and RCR worked together to create a virtual VIP experience. This interactive Zoom call featured conversation between Reddick and crew chief Randall Burnett. The pair discussed the CAT brand, talked about similarities between Caterpillar and RCR and took time to answer questions asked by the guests.
"It's been really interesting to see how our partners have been able to pivot during this time and utilize virtual activation methods to continue to engage with important dealers, customers and employees," said Reddick. "I've done quite a few Zoom Q&A's with Caterpillar now, and it's been fun getting to connect with their guests even though they can't visit us at the racetrack."
Planning for two more virtual Caterpillar events of this kind are underway, as are plans to release a virtual hospitality kit for guests which will include a Zoom Meet & Greet with Reddick as well as lanyard "hot passes" for the recipients. These kits will be used to give guests the "race-day" experience and help them connect with Reddick even while they cannot physically be at the track.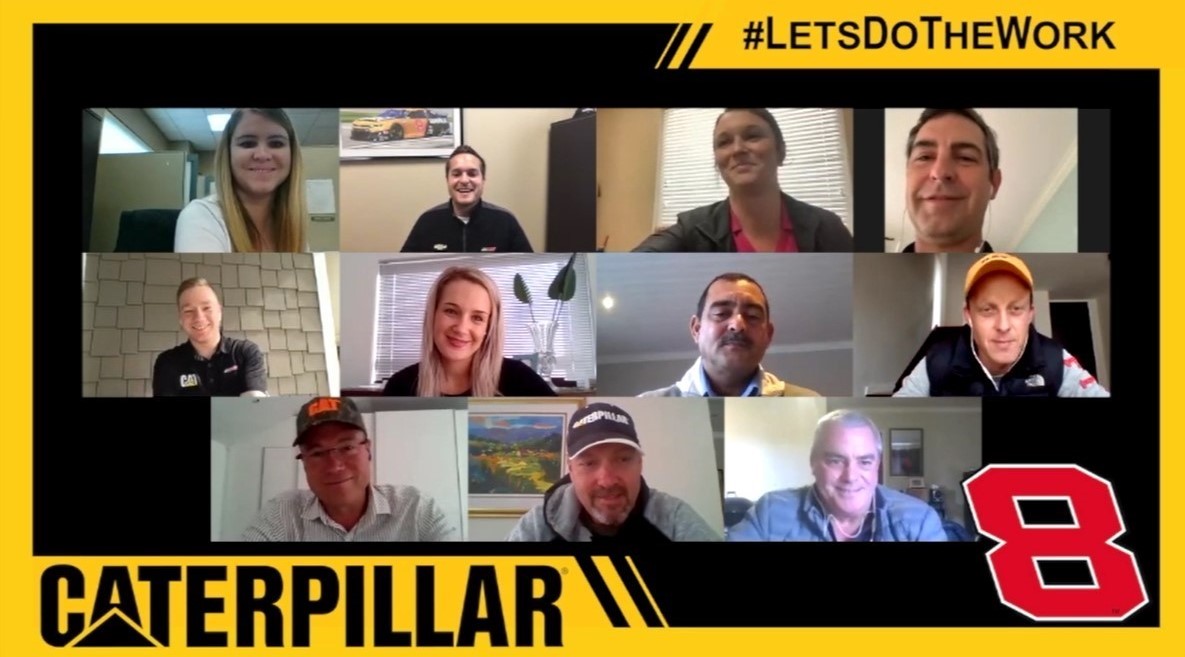 Meanwhile, Dillon teamed up with Charlotte Motor Speedway and Coca-Cola for a game of virtual corn hole with fans, and also participated in a virtual Q&A session with the Performance Racing Network (PRN) prior to the Charlotte race.
"I really enjoy the hustle of race day at the track and spending my morning before the race interacting with fans and sponsors," said Dillon. "I've missed seeing fans and sponsors in person, but it's been fun to interact in new and unique ways through virtual appearances, meet and greets and even signing autographs electronically."
That same week leading up to the Charlotte race Reddick partnered with team owner Richard Childress to help with a 5-Day Business Survival Challenge with Avalan Wealth Management. This event took place with a small group of high-level wealth management clients and prospects. Reddick talked about caring for yourself amid uncertain times and the importance of being active and healthy. Childress gave professional advice and shared leadership skills.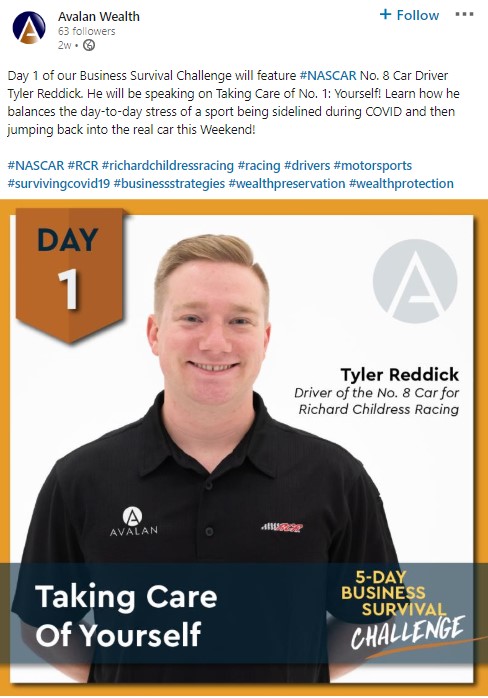 While RCR partners play a tremendous role in allowing our drivers to race every weekend, they also play a key part in strengthening the communities in which they serve. Dillon participated in a virtual event leading up to the Coca-Cola 600 with RCR partner GM BuyPower Card from Capital One and a pool of 49 NASCAR reporters to talk about GM's recent contribution to Pit Stops for Hope. Pit Stops for Hope is a collaboration of the racing community united together for the betterment of America's youth.
Dillon also joined a virtual Meet & Greet with 50 local affiliates of volunteers from Keep America Beautiful, a national community improvement nonprofit organization inspiring and educating people to take action every day to improve and beautify their community environment. This initiative was made possible by Keep America Beautiful's partnership with Dow. In this 20-minute Q&A, Dillon discussed similarities in the logistics that go into keeping people safe with NASCAR returning to the racetrack and Keep America Beautiful volunteers returning to in-person volunteering.
In that same philanthropic spirit, Reddick teamed up with Chevrolet to speak to a group of students at the Urban Youth Racing School based in Philadelphia over Zoom. The school focuses on teaching inner city youth STEM subjects related to racing while motivating them to pursue these subjects in school and potential career paths in life. Chevy has been a proud supporter of the school for the past 20 years. Reddick participated in a Question & Answer session with the students, explaining how he got where he is today, how science and math are key components of racing and how he studies data to be a better driver.
Dillon and Reddick are not the only ones at RCR getting in on the virtual fun. Dr. Andy Randolph, Technical Director of ECR Engines at RCR, participated in several educational social media sessions on behalf of American Ethanol. He told viewers about the power of ethanol and how this fuel can make a big difference in your vehicle as well as on the racetrack.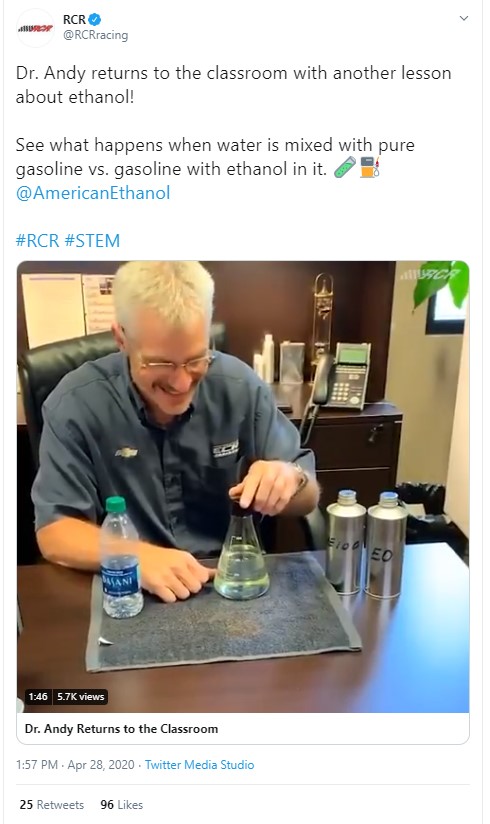 All these virtual experiences are a testament to the power of a team partnership with RCR. They are a reminder that even in trying times our team and partners can come together and continue to build relationships off the racetrack, further establishing connections and strengthen brand loyalty for our family of partners and fans. We are grateful for the technology that allows us to keep driving forward and look ahead to the days when we can connect face-to-face.