It is no secret that NASCAR is a sport driven by partnerships, but did you know that Richard Childress Racing has a knack for taking these partnerships to the next level? RCR is proud to work with a variety of advertisers that utilize TV commercials during live sports. Over the years, RCR has made these media buys more effective and impactful through the addition of an authentic team partnership.
The authenticity of being on track and in the event resonates with NASCAR fans. Simmons National Research shows that NASCAR fans are 30% more likely than non-fans to try the product/service of race team partners. A team sponsor that is also a broadcast partner typically receives an "unfair share" of coverage on race day.
Symbicort, an inhaled glucocorticoid for COPD and chronic asthma sufferers, had been taking advantage of prime-time TV spots during NASCAR races for several years. Through independent research, Symbicort understood that NASCAR was an effective platform to reach their target market. In 2018, Symbicort formed a partnership with RCR to create an authentic connection with millions of NASCAR fans. Symbicort has seen significant value in the team partnership, and has extended the partnership for the last few seasons.
Last season, Symbicort developed a strategy with RCR focused on three objectives: increase brand awareness, create positive brand sentiment and convert awareness into engagement.
To increase brand awareness, Symbicort was able to leverage RCR's primary sponsorship branding through television to increase media exposure. This included in-race, on track exposure, on-air, pre-race driver interviews and the No. 3's in-car camera. Additionally, Symbicort utilized RCR assets to develop compelling brand content. This meant Symbicort had key access to Austin Dillon, Tyler Reddick and No. 3 pit crew members to capture behind-the-scenes content over a two-day period as the RCR crew geared up for Daytona. RCR also worked with NASCAR Media Group to allow Symbicort's creative agency to capture at-track photos in Daytona and Bristol. The co-branded content was shared via Symbicort and RCR social media channels resulting in more than 300,000 organic impressions, nearly 20,000 engagements and 585+ mentions.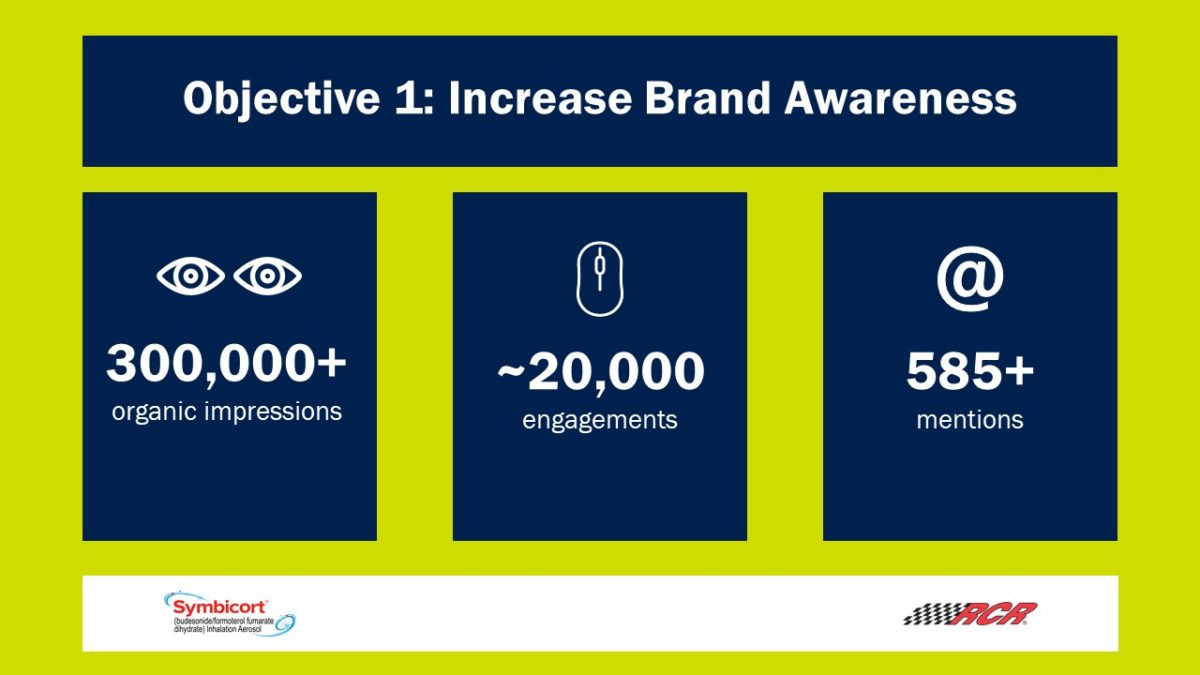 To create positive brand sentiment, it is important to convey authentic brand connections. RCR's various personalities, including drivers, pit crew members and pit crew coaches, were used to create genuine brand messaging through personal stories that resonate with the NASCAR fan. As a result, 74% of avid NASCAR fans who thought the relationship between RCR and Symbicort was the right/good fit and had positive social sentiment. Additionally, 76% of avid NASCAR fans believed Tyler Reddick and Austin Dillon were appropriate spokespeople for the Symbicort brand.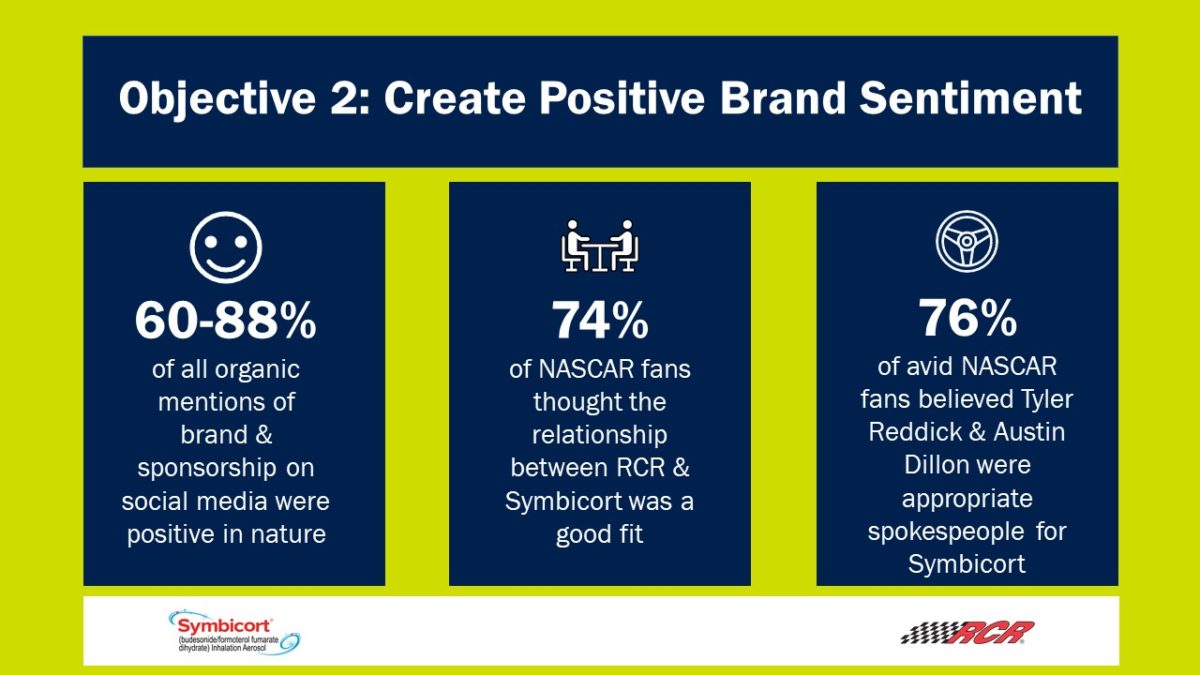 Lastly, Symbicort needed to convert brand awareness into engagement. There were several ways to go about this. One was driving sales through employee engagement and VIP experiences. This included hosting Symbicort partners at the track with behind-the-scenes tours of the hauler, pit box, meet and greets with drivers and more. Another way Symbicort saw engagement was by building credibility with NASCAR fans through an iconic team partnership. Symbicort was able to utilize RCR Intellectual Property (IP) including the iconic and historical No. 3 car made famous by the late Dale Earnhardt. NASCAR fans are 39% more likely than the general population to feel loyal towards companies that sponsor NASCAR teams and events. Finally, Symbicort engaged directly with fans on-site through a full-day integration into the race weekend at Bristol Motor Speedway that included over 2,000 people at the track and was streamed live on NASCAR.com and Facebook.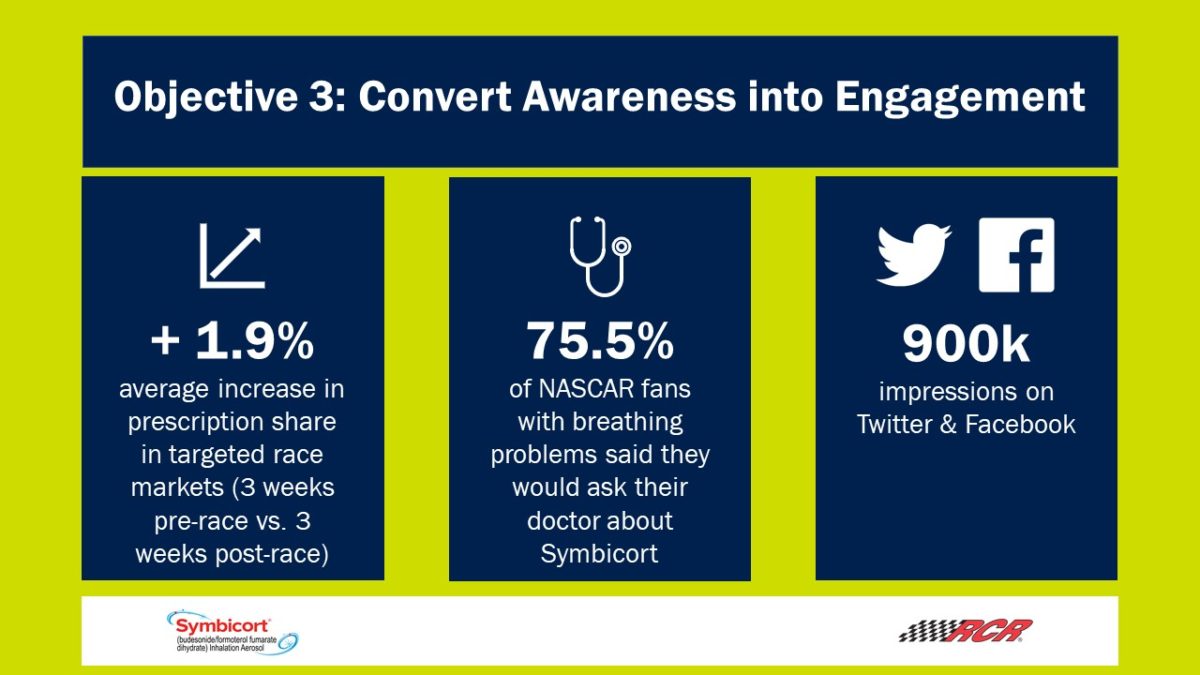 Since putting the strategy into action, Symbicort has achieved over 30 million incremental impressions through RCR branding opportunities. 76% of respondents had positive feelings towards Symbicort and believed RCR drivers were good brand ambassadors. There have been more than 300,000 organic impressions on social media resulting in nearly 20,000 engagements. RCR team branded assets (traditional, digital, social) generated a significant increase in positive sentiment (compared to generic NASCAR-only materials). Lastly, there was a 19% lift of viewers who intend to ask their doctor about Symbicort and a 32% lift of viewers who will consider taking Symbicort after seeing in-race branding.
These numbers attest to the power of a team partnership with RCR and show how the loyal NASCAR fan base can bring great value to companies like Symbicort. It also reinforces the fact that RCR specializes in building partnership platforms that make 'unaffiliated' media placements more effective and impactful.
In addition to Symbicort, throughout the past few seasons RCR has worked with several partners to enhance their targeted campaigns through an RCR team partnership. Brands like Velveeta Shells & Cheese, eBay Motors, Twisted Tea and Rain-X have all formed partnerships with RCR as a unique way to increase exposure and create authentic connections with millions of NASCAR fans. By utilizing RCR assets, these brands were able to boost the impact of their existing media buys. The common thread for all these success stories is rooted in the foundation of a solid team partnership. The numbers attest to the lasting effects of these investments and pave a bright path forward for continued success for all parties.