If 2020 has taught us anything, it is that with a little creativity, there is more than one way to get the job done. Living rooms can be offices, parents can be teachers and Zoom can be the new way to "hang out" with loved ones.
In many ways, the same can be said of providing value to partners in NASCAR. For those of us in the sport, we know that the at-track experience provides tremendous value for partners and prospects considering a team partnership. Hauler tours, grid photos, meet & greets, and corporate B2B connections are among the many exclusive experiences synonymous with the race day experience.
Due to the COVID-19 pandemic, at-track access was restricted for much of the 2020 season. Thanks to the resourcefulness of the RCR team and our strong base of corporate partners, the year provided an opportunity to introduce new, creative ways to deliver the same high-quality level of service on a virtual platform.
Zooming through the Year
One of the ways RCR and our partners worked together to continue building connections is through the implementation of meetings, appearances, and meet & greets via virtual hosting services such as Zoom. The beauty of Zoom is that participants can join from anywhere in the world and easily communicate through video, shared screens, and messaging.
Austin Dillon, driver of the No. 3 Chevrolet, used Zoom to talk to military members as part of a campaign entitled Mission 600 in collaboration with Coca-Cola, meet with members from Keep America Beautiful on behalf of Dow and provided value to key partners by using the Zoom platform to interact with media members across the country. Tyler Reddick, driver of the No. 8 Chevrolet, used the platform to connect with Caterpillar dealers and customers in South Africa, give advice in Avalan's 5-Day Business Survival Challenge, and speak with a group of students from the Urban Racing School about the role of STEM in racing in collaboration with Chevrolet. To learn more about how RCR utilized Zoom this year for our partners, check out our earlier article on it here.
Content & Storytelling
Another lesson that 2020 taught us is the pivotal role storytelling plays for each of our partners. One of the best tools we have in our toolbox to tell our partner stories is interactive, engaging content on social media.
This year, that took the form of educational videos on Twitter with Dr. Andy for American Ethanol, fun competitions on Facebook between our drivers for Alsco, and our first ever Twitch live-streaming event for Cheddar's Scratch Kitchen. Through the use of these mediums, our team has worked tirelessly to create new, captivating ways to engage with our fanbase.
On RCR and NASCAR industry social channels, we recorded nearly one-quarter billion impressions, 5 million engagements and 30 million video views YTD for our team and partners.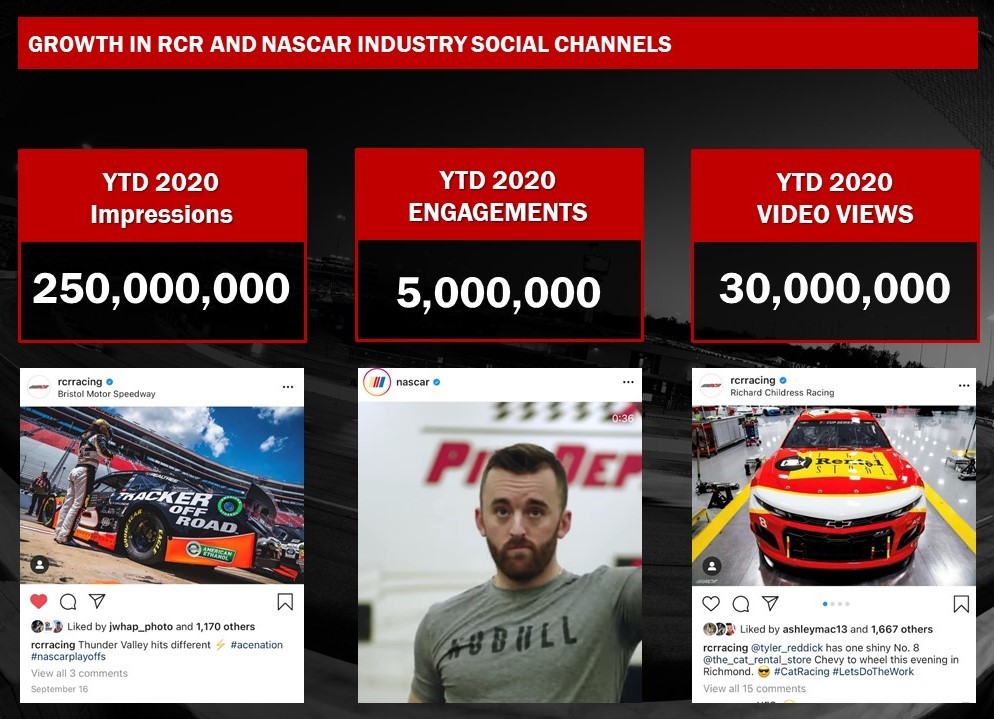 Drivers Austin Dillon and Tyler Reddick played a big role in helping with the numbers as well. According to Nielsen Social24, Reddick saw a 46% YoY growth in followers and a 78% YoY growth in engagement on Instagram, while Dillon surpassed Carolina Panthers running back Christian McCaffrey in Twitter followers in 2020.
Media Value & Additional Exposure
One of the biggest benefits of RCR's 2020 team partnerships is the media value provided to our partners, especially as it related to the TV exposure that our partners received during live event race broadcasts. Logo and brand exposure appeared on various driver and team assets, such as the car, pit box, and driver fire suit.
According to the Nielsen Company, RCR's 2020 NASCAR Cup Series media value for our partners increased 93% YoY, while exposures increased 79% YoY and duration increased 101% YoY. These numbers indicate growth and stability amid a pandemic, which is impressive against a backdrop of overall decline in professional sports viewing.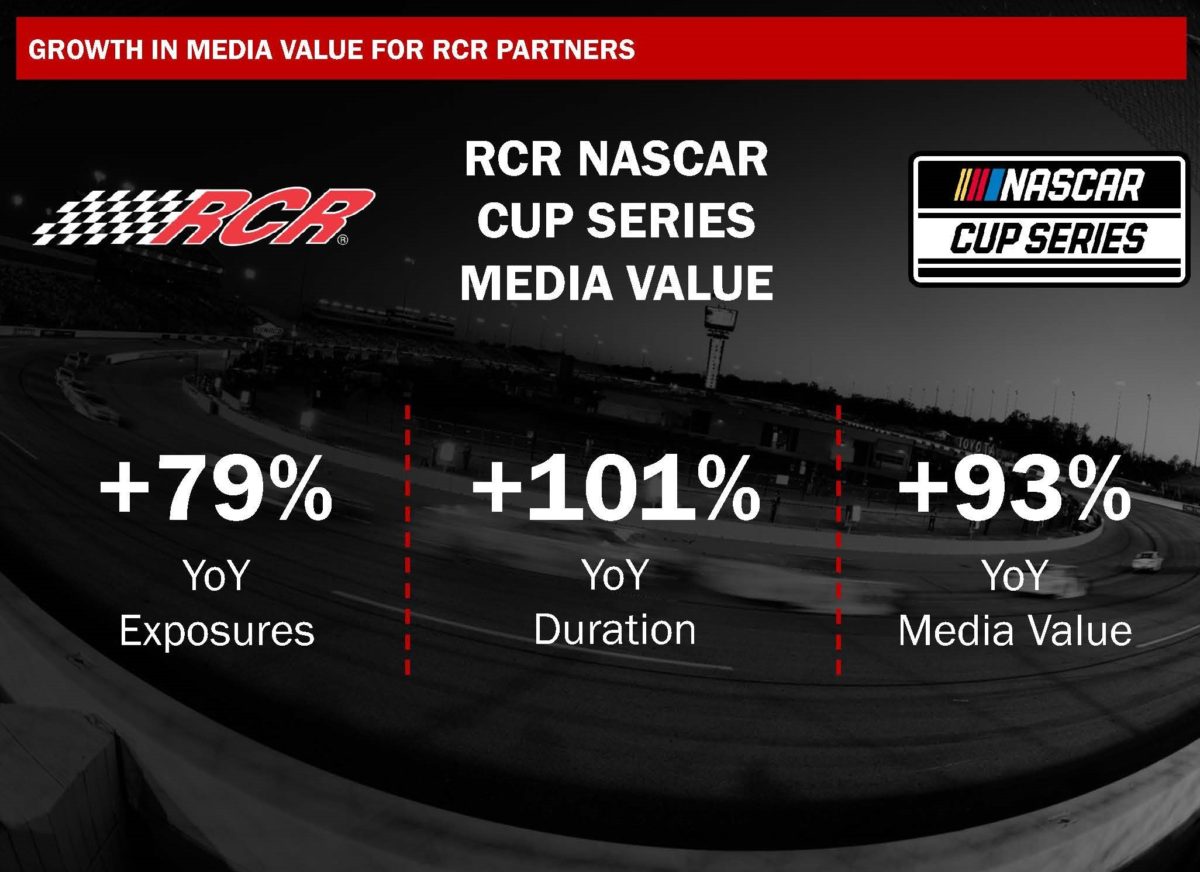 In addition to television media value, we successfully integrated our partners into multiple initiatives, including a successful iRacing collaboration. According to Nielsen, 1.3 million viewers across Fox and FS1 tuned into the virtual Texas Motor Speedway race, setting the record for the highest-rated esports event ever. We also connected with the community through initiatives with Feeding America and Samaritan's Purse, as well as through the donations of Personal Protection Equipment (PPE). Additionally, we were recognized by NASCAR for the NASCAR Diversity Team Award to honor our diverse women in leadership as well as female executives from our partnership family: Caterpillar, Growth Energy and Dow.
As evident through the examples above, the RCR team has been hard at work this year in making sure our partners achieve their goals and objectives. We are extremely thankful for our partners' continued support and innovative approach to partnership this season.
As we look forward to a brighter, healthier 2021, we hope to continue to use the creative approaches that we have identified this year to continue to evolve to co-develop best practices with our corporate partners.