Team sponsorship in NASCAR is parallel to great food in a restaurant; when the ingredients are combined correctly, the results can be rewarding for all involved. Richard Childress Racing is proud to showcase one of our partners that has built a successful partnership, Cheddar's Scratch Kitchen. Cheddar's, a homestyle casual dining restaurant, made its debut in NASCAR as a multi-race primary sponsor on Tyler Reddick's No. 8 Chevrolet Camaro ZL1 1LE at the NASCAR Cup Series race at Indianapolis Motor Speedway over the July 4th holiday weekend.
Founded in 1979 in Irving, Texas, Cheddar's is known for their homestyle casual dining and affordable prices. Over the years, they have charted an aggressive expansion into nearly 30 states across the country, with an abundance of friendly and passionate team members. Guests have come to know and love Cheddar's for their signature Honey Butter Croissants that come on the house with every visit, as well as their top entrees which include hand-breaded Chicken Tenders, Homemade Chicken Pot Pie and House-Smoked Baby Back Ribs.
"Cheddar's Scratch Kitchen is thrilled to be partnering with a legacy team like Richard Childress Racing and up-and-coming NASCAR Cup Series driver Tyler Reddick," said Jamie Bunker, Vice President of Marketing at Cheddar's Scratch Kitchen. "We continue to hear from our guests how passionate they are about racing, and we're excited to be part of such a beloved sport and RCR's family of brands."
In the world of motorsports, primary sponsorships are debuted in conjunction with a lineup of activation pieces. These activities help to strengthen and solidify the partnership in the marketplace while connecting with the target audience. Our team of marketing and communications professionals at RCR work tirelessly to ensure that these activations are rolled out seamlessly and strategically, planning out every detail in advance. The Cup Series race event at Indianapolis Motor Speedway aligned perfectly with Cheddar's on-track debut as both an RCR partner and member of the NASCAR community. While at-track activation experiences were not possible due to the COVID-19 pandemic, the RCR team came up with engaging and creative ways to connect with the audience digitally and set the stage for the future success of the partnership.
The first piece of the activation was unveiling the paint scheme. To do this, our team at RCR held a photo shoot for the new Cheddar's Chevrolet Camaro ZL1-1LE in our onsite production studio. This space is where the content magic happens and is part of the turnkey team partner experience. All footage from the shoot is captured on our campus and then edited by RCR's in-house production team. We then released the full-length video across social handles on Thursday going into race weekend.
Cheddar's rolled out a condensed version with just the car on their handles on Friday. Releasing the video on social not only created buzz around the partnership but provided an opportunity to connect with the most brand loyal fans in professional sports.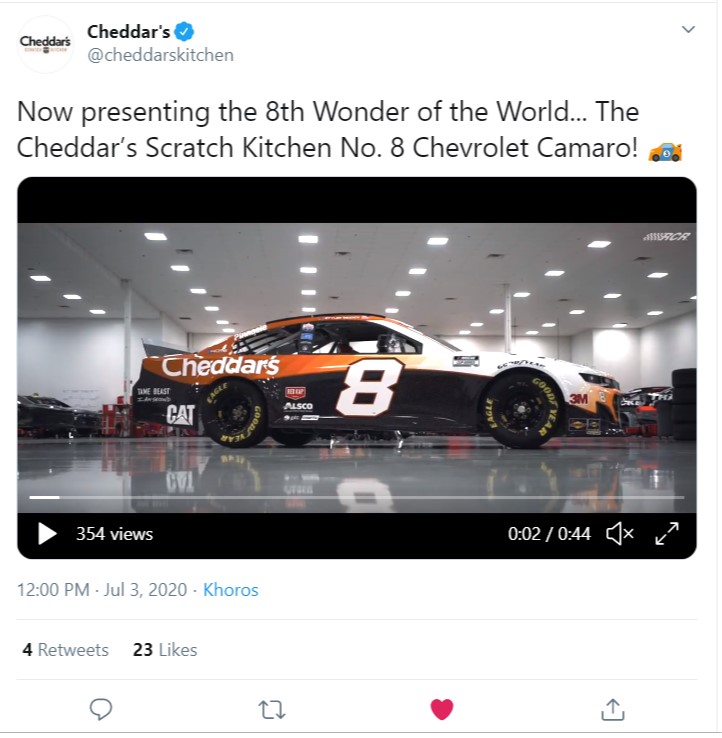 The second part of the activation included a special promotional offer for Cheddar's patrons to receive 15% off their To-Go orders on Race Day. This officially kicked off on the day of the race at Indianapolis Motor Speedway and will occur every race day going forward. We featured the promotion on our social handles, and Cheddar's promoted it on their channels as well.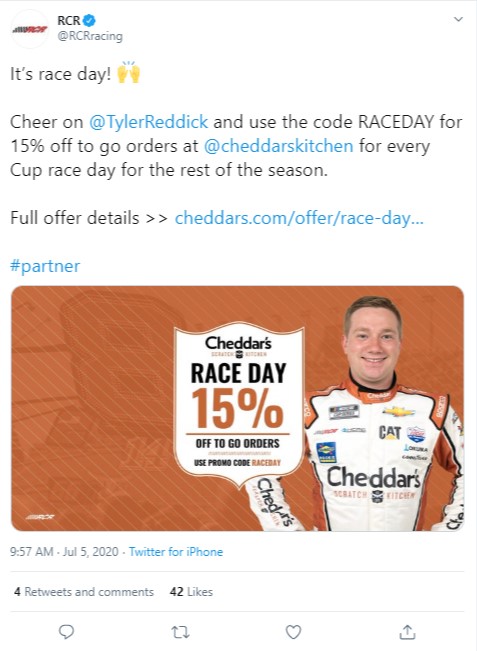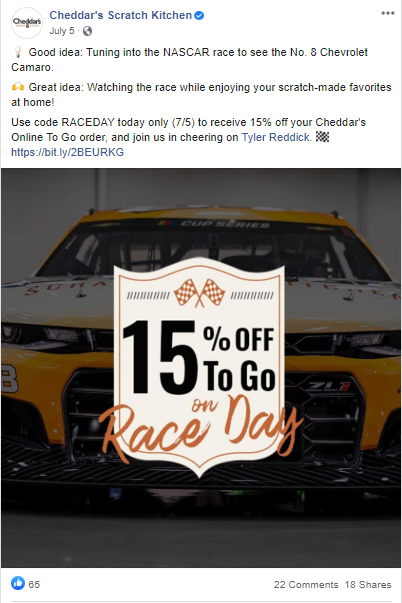 This initiative served as a great way to capture the attention of NASCAR's loyal fan base, who are 20% more likely to visit homestyle casual dining restaurants compared to non-fans (Simmons National Consumer Survey, Fall Full Year 2019). Having Tyler Reddick as a brand ambassador only strengthens the brand loyalty and engagement in the marketplace, creating more opportunities for NASCAR fans to show their support for Cheddar's.
Lastly, our team created a series of custom GIF's that were posted on RCR's social media accounts throughout the race weekend. These images were captured during the paint scheme photo shoot and provided a fun way for fans to engage on social and be a part of the reveal. We were able to highlight the playful nature of the Cheddar's brand through this custom content, which aligned nicely with Tyler's fun personality as expressed in the GIF's.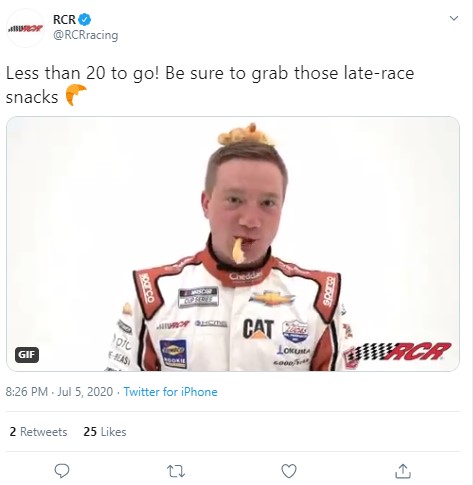 NASCAR is a very sponsor-friendly sport on social, which means content like this is key in engaging with current fans and gaining new ones. NASCAR fans over index in key metrics related to seeing sponsors on social media, including recall, purchase intent and purchase habits. This reinforces the importance of effectively using social media to amplify the team partnership.
All in all, the weekend was the beginning of what is shaping up to be a successful partnership. Each activity was designed to establish strong connections between Cheddar's, Tyler Reddick and RCR. With NASCAR fans being aware of the role sponsors play in the sport, there is great opportunity for Cheddar's to connect with this loyal audience. That is why every aspect of the activation is centered around creating meaningful connections to fans with the key strategy of building awareness for Cheddar's and increasing restaurant traffic.
RCR's partnership team is working closely with Cheddar's to develop other activations and content for the years to come. This includes utilizing RCR Intellectual Property in custom menu items and No. 8 Tyler Reddick craft paper that will be used in To-Go orders and food baskets. There are also plans to do a formal production day where additional videos can be filmed for social and promotional purposes. These pieces help to further reinforce brand recognition and drive new guests to Cheddar's.
"I'm excited to be partnering with Cheddar's Scratch Kitchen as they enter the world of NASCAR with RCR," said Reddick. "Our fans are passionate, and I do not think it will take long for them to discover the welcoming, homestyle atmosphere found at Cheddar's Scratch Kitchen and appreciate their made-from-scratch recipes. I think they'll also discover there is a lot of crossover between how Cheddar's Scratch Kitchen prepares their meals and how we as a team prepare for a weekend at the track."
Welcome to the family, Cheddar's!